Here is a story of someone who purchased a gold detector. He has had some great success.
Couldn't be Happier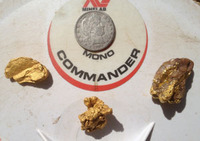 I've had a very good Minelab Month of May with my
GPX 5000
. I found 3 BIG nuggets .55oz, 1.27oz &.9oz totaling 2.72 oz and a 1902s barber Quarter in a new patch. All were found with the Commander coils. What a deadly combination.... the nuggets didn't have a chance!! I couldn't be happier!!!!
Give us a call when you find those nuggets. We will take them off your hands for some cold hard cash! 809.889.7200 or online at valleygoldminesaltlake.com